NEWS
Supporting our Cornish schools to keep students safe and well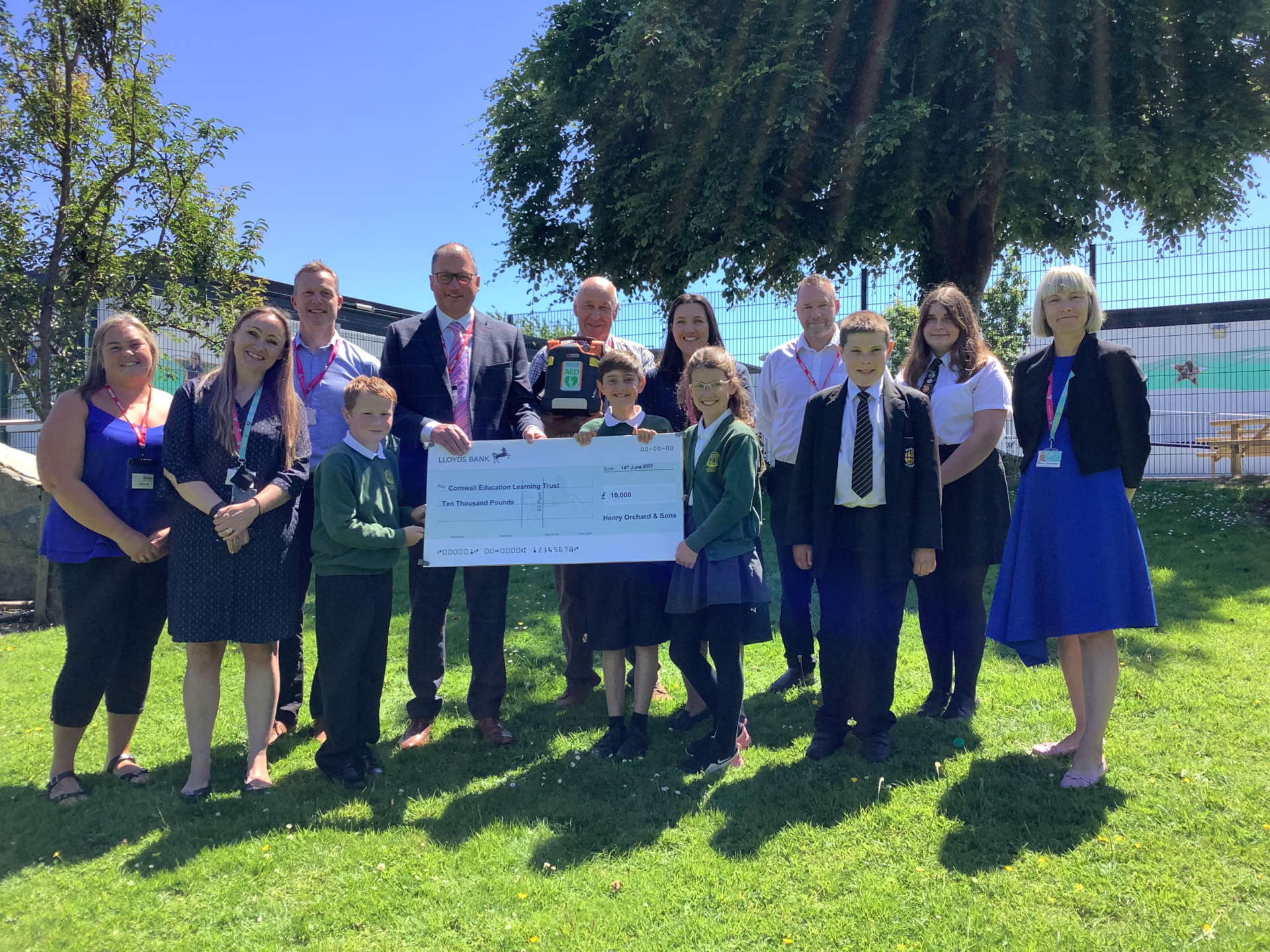 Cheque presentation featuring L-R: Finlay's Mum, Donna McGrath (First Aid Instructor at Penrice), Nathan Cooper (Teacher at Luxulyan), Ewan (Year 5 at Luxulyan), Mr Henry Orchard, Geoff Brown (Chair of Trust Board at Cornwall Education Learning Trust), Oliver (Year 6 at Luxulyan), Emma Williams (Headteacher at Luxulyan), Flora (Year 5 at Luxulyan), Finlay's Dad, Finlay, Finlay's Sister, Lucy Gambier (Headteacher at Penrice).
Few things in our lives are as important as keeping children safe and well. So when Henry and Jamie Orchard, of Henry Orchard and Sons heard that their local school at Luxulyan, which both brothers attended, was part of a fundraising effort by Cornwall Education Learning Trust (CELT) to raise £20,000 to buy defibrillators for the schools, they were keen to help.
Henry  presented a £10,000 cheque to staff leading the campaign at CELT on Tuesday 14th June at Penrice Academy.  The ceremony was attended by pupils who completed the Climb Everest Challenge and staff from Luxulyan School.  Also in attendance was a very special guest, Finlay Richards, a pupil at Penrice Academy.
Last December, Finlay, then 11-years-old, suffered a cardiac arrest as the result of a previously undiagnosed heart condition. He was saved by an alert member of staff who used the school defibrillator to save his life.
Finlay and his family, along with staff and pupils at CELT are now campaigning for all of their 14 schools to have a defibrillator and thanks to the donation from Henry Orchard and Sons, they are now able to start purchasing the life saving equipment.
"Here at Henry Orchard and Sons, we can see how important this is, so we were in the privileged position of being able to donate £10,000 towards the total sum," says Henry, now managing director of the leading scrap metal company.
"Jamie and I both attended Luxulyan School and we are always keen to support our local community here in Cornwall. This seemed a really ideal opportunity to put something back into our community that could help to keep school children in our local area safe and well.
"Now, although more money needs to be raised, the fantastic news is that CELT school are about to start buying more defibrillators.
Huge congratulations to all involved in such an important campaign."  
Lucy Gambier, Head of School at Penrice Academy, added: "It is so amazing that we can all be here today with such a great news story to share and to help publicise the use of defibrillators more widely. A big thank you to Henry Orchard & Sons for their support."
If you would like to support the cause too, visit their Just Giving page here: 
https://www.justgiving.com/crowdfunding/cornwalleducationlearningtrust